See More Information About Planning Your Visit
What is the best way to get to the Barn and Retreat Center at Boyds Mills?
We're located only 2 ½ hours from New York City and Philadelphia by car; ample parking is available.  We are approximately 45 minutes from the Wilkes-Barre/Scranton International Airport, with complimentary car service.  There are also train and bus options from NYC and Philadelphia, with complimentary car service.  Get more details here.
What are the accommodations like?

We provide comfortable and fully-furnished lodging with linens included.  See complete details here.
What are check in and check out times?

Check In: You may check into your lodging anytime after 3pm on the day of your arrival.  If you arrive prior to 3pm, you may enjoy the grounds and various work and gathering places around the facility as your room is being prepared.
Check Out: Lunch on the final day of your stay is included, but we ask that you check out of your lodging by 11am. You are welcome to leave your packed bags by the door of your room/cabin while you enjoy lunch and say your goodbyes. Housekeeping may enter your room during this period to begin cleaning and prepping for our next guests.  Thank you for your consideration.
Do I need to bring food?
All meals and snacks are included in your stay.  Our meals are chef-made, farm-fresh and local inspired.  Learn more here.  You may bring snacks or food to enjoy in your room only if you wish, but that is not required.
What if I have special dietary restrictions?

Our chef will be happy to work with you. Let us know when you plan your stay, and we'll make sure your dietary needs are met.
How should I dress?
Your dress code will likely depend on the reason you're coming, but in general, our center is comfortable and casual. Remember that we are in the mountains! In spring and fall, days and nights can be chilly.
Can I bring my children?
No. All personal retreat guests must be 18 or older.
Should I bring toiletries or supplies?
Basic toiletries like shampoo, soap, and paper products are included in each room.  We also have umbrellas, sunscreen,  and bug spray available in case you need them.  If you have specific needs in these areas, please be bring them.  There are grocery and drugstores nearby, but only accessible by car.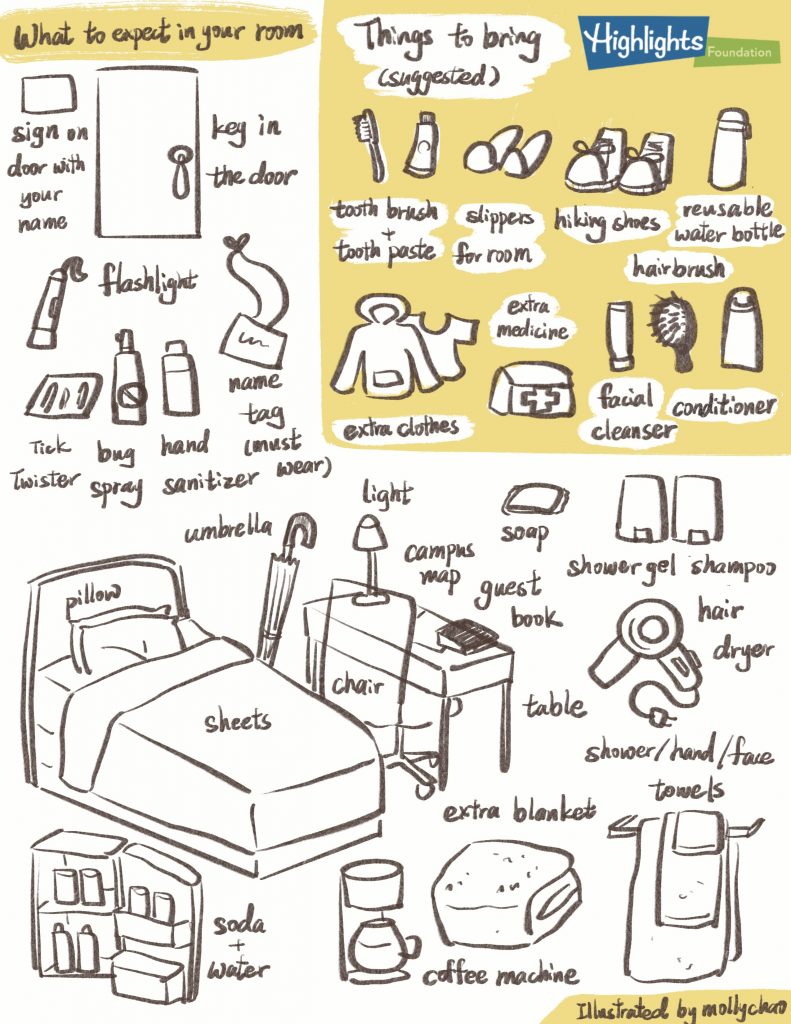 Packing List:
What to expect in your room: sign on door with your name, key in the door, flashlight, Tick Twister, bug spray, hand sanitizer, name tag (must wear), umbrella, light, pillow, campus map, soap, shower gel, shampoo, sheets, chair, guest book, hair dryer, table, shower/hand/face towels, extra blanket, soda + water, coffee machine.
Things to bring (suggested): tooth brush and tooth paste, slippers for room, hiking shoes, reusable water bottle, hairbrush, extra medicine, extra clothes, facial cleanser, conditioner.
Does the property have wireless internet access?
 Will I be able to use my laptop around the center?
WiFi is available throughout the property.  Please be aware that we're in the middle of the woods and bandwidth can be limited, so be kind to your neighbors and minimize streaming especially at peak work times.  Work and common spaces also have abundant electrical outlets, and we have a printer on site if you need it.
Is there audio/visual equipment available?
Yes!  We have the following for your use as needed.  If you have a specific need for any of these items, please alert us ahead of time so we can make sure they're available in the space you need.
Flip charts with post-it notes
Easel
Notepads and pens
TV (no cable)
DVD player
Microphone: wireless lapel and handheld (only available in the Great Room)
Podium
Wireless internet
Speaker phone
See More Information About Planning Your Visit