What to expect in your room when you arrive:
Sign on door with your name, and the key in the door
Flashlight and campus map
Tick Twister & bug spray
Hand sanitizer
Name tag (must wear)
Umbrella
Writing table/desk, light, and chair with Guest Book
Pillow, sheets, blankets, and bedding
Soap, shower gel, and shampoo
Shower/hand/face towels
Hair Dryer
Soda + water and coffee machine (in each cabin, and in shared areas in the Lodge and Farmhouse)
Mini-Fridge (in each cabin). Full refrigerator in shared areas in Lodge and Farmhouse.
Microwave available in the Barn
Things to bring (suggested):
Tooth brush and tooth paste
Facial cleanser, conditioner, and other desired toiletries
Hairbrush
Extra Medicine
Extra clothes
Slippers for your room
Hiking shoes
Reusable water bottle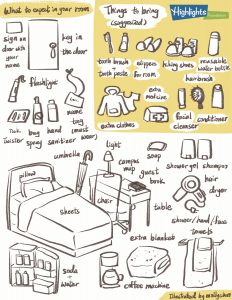 Download a copy of our Packing List.