See More Information About Planning Your Visit
The Barn and Retreat Center at Boyds Mills features many spaces for gathering and working across the property.
The Main Barn
See Additional Photos
The main gathering place on campus, where most meals are served and events take place
Built around the foundation of a late 1800's Dairy Barn
Comfortably accommodates up to 60 people for a meal (5000 Square feet)
Outdoor stone patio and fireplace with seating
Loft hangout overlooking the main room
Auxiliary rooms including a space with couches and a library
In house sound system; A/V Capable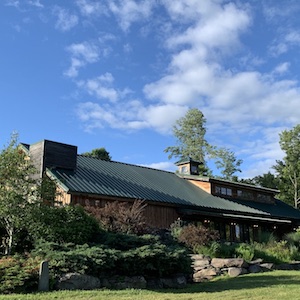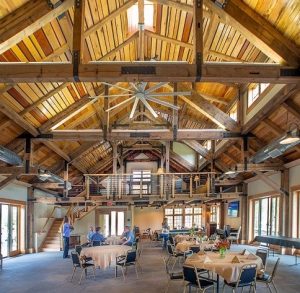 Work and Gathering Spaces
See Additional Photos of Our Spaces
The Art Coop
Shared space with drawing tables and a selection of art supplies available for use.  The structure was converted from a chicken coop.
The Granary
Shared space with leather couches, end tables, and work areas.  The structure was converted from a granary, or animal feed storehouse.
The Lodge's Living Room
Shared space with couches, end tables, and work areas within the lodge.  24/7 refreshments and a coffee maker are available here.
The Farmhouse Porch
Shared space with a large table and chairs.  Accessible through the Farmhouse.
Auxiliary Spaces in the Barn
The Barn has several spaces and rooms adjacent to it, including an outdoor patio with fireplace, a loft with couches and desks, a library, and a living room.  Some include food service options.
Outdoor Gathering Spaces
Main Barn Patio
Adjacent to the Main Barn, with seating and a fireplace.  Ideal for gathering, s'mores, and enjoying the outdoors.
Old-Fashioned Barn
Historical wooden horse barn built in the 1900's.
Provides some shelter in case of mildly inclement weather.
We can set up seating here and some foodservice options here.
Brookside
Outdoors in the beauty of nature along our babbling brook, Calkins Creek.
You are surrounded by nature so there is no shelter here.
Use is weather permitting.
The Word Garden
The "Word Garden" is our picturesque rock garden, surrounded by woods and restful spots to take it all in. This location is very close to the main Barn and cabins.
It is a nod to our roots in Children's Literature, and the reason this center was founded (the Highlights Foundation and Highlights for Children). Many of the rocks included are by way of donations by members of the Highlights Foundation community.